I am a singer songwriter from Lake Wales, FL and Westerly, RI with a passion for melody and lyric but more so, the marriage between the two. Jazz, blues, gospel, reggae are all in the running as each song unravels its own personality. My lyrics look at today's world in ways that invite conversation, as my song, "The Echo Chamber" calls to practice the art of civil discourse without hurt. Albums, "Out of the Driveway", "Paint Me a Song"  and current compilation, "Quilted" address topics head-and-heart on, and reside on all streaming sites @DotReiser. I believe in back-story-telling to preface a song, and invite you to Subscribe to connect to these stories. Videography invites a colorful layer to storytelling, and you can find my unique videos here. I believe in the importance of backstory-telling to preface a song, and that is one reason why I am creating a Patreon page. To become a part of the creative community and even help shape it, join my new Patreon page. Please note, you do not need to subscribe to the pay-walls for my back story telling. I will always share those for free.
Did you know that I also offer "Sing Your Story" and "Sing for Memory" as care activities at local senior living and nursing homes? If you'd like to learn more about my singing opportunities and schedule a meeting, please reach out today!
"There's such a beautiful thing that goes on with music when you have good intentions." -- Terri Hendrix
 Listen to her entire discography here.
 Subscribe to her YouTube channel here.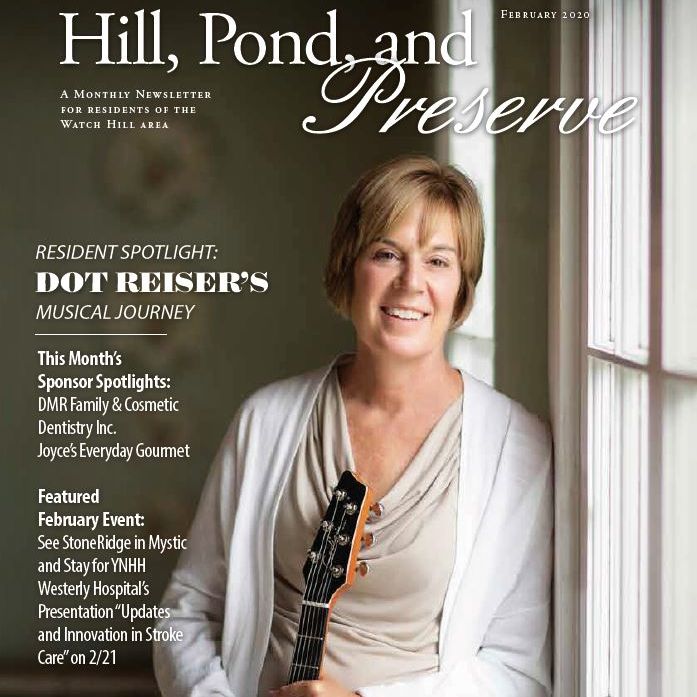 Dot in the News!
Hill, Pond, and Preserve: February 2020 Featuring Musician Dot Reiser